Jul 30, 2013
Delivering a personalised shopping experience while truly differentiating with the product offering are two major areas that airlines are focusing on today. EyeforTravel's Ritesh Gupta investigates
Airlines are trying to improve the ways they sell via their brand websites and also seeking a lot more from third party channels. On the one hand there is a much deeper focus on personalisation and a move to understand the behaviour of online visitors. On the other, airlines are looking to differentiate their offerings. Against this backdrop, it seems that involving passengers with tailor-made offerings while at the same time showcasing what's unique to an airline can yield better results. Now let's consider in more detail how the industry is tackling this challenge.
1.      The power of personalisation
Farelogix's Lead Schema Architect Bonnie Lowell believes that the airline industry will focus on providing a personalised shopping experience for their passengers. "Just using the summary information from past flight purchasing behaviour — in combination with explicitly provided preference information — airlines can tailor a dynamic flight package if a shopper provides something as simple as a frequent flyer number," she says, adding that this provides a shopper with the combined benefit of both a personalised and time-efficient shopping experience.
"If an airline can first show me flights and optional services that match my purchasing pattern and/or stated preferences — I'm a happy customer. I do want to see other upgrade offers — but I want them to be related to the personalised flight choices I'm presented with," she explains. "In addition, if airlines can get to the holy grail of fewer, better targeted flight itinerary options for a shopping experience, they also provide goodwill for the growing number of mobile device users that struggle with a lot of information in a limited screen space and itty bitty keyboards as an input device, but want to interact with the airline (check-in, booking and so on) on those devices."
2.      Differentiation challenges
Product and service differentiation for any company is always a strategic challenge. For a company with both an online and bricks-and-mortar presence, but no third party distribution channel partners, it's a relatively straightforward process. For airline suppliers, differentiating and defining their products and services on their branded website is also a straightforward process.
Airlines are constantly trying to improve the online experience of their customers so that passengers get to know what they are going to get on their flights (Wifi, seats, meals and so on). This also means a clear focus is on differentiation so that passengers consider airlines on the basis of what exactly a flight is all about.
Some aspects of airline travel are commodity items such as getting from A to B – customers expect that.
What allows airlines to differentiate are the network, and the service onboard (customer experience from check in through to arrivals including onboard catering, partner offerings, baggage handling and collection)," says Stuart Lattimore, eCommerce Manager, Aer Lingus.
For Lattimore, airlines can differentiate via the website offering in the following ways:
1.       Inspire and educate your customer: Show them where you fly. If you have partner airlines – show them where they can go. Don't assume all customers know where/when they want to go
2.       Be relevant: Use the wealth of information a customer enters during a search and a booking process to tailor what products you offer them – customers engage and respond to relevance
3.       Show them an enjoyable in-flight experience: Use rich imagery and media to communicate
4.       Don't make assumptions: Never assume a customer will use your website at all stages of their journey – consider all touch points – self-service kiosks, mobile and tablet apps – and recognise the needs or tasks relevant to them at that stage of their journey. If a customer is en route to the airport and their flight is in four hours and they have checked in via the website, then remind them about the airport terminal and, where possible, gate number. (Offer them a lounge up sell but don't try to sell them another flight).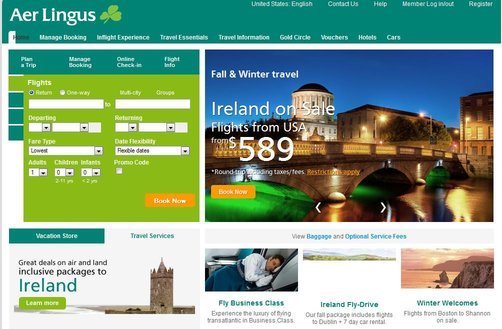 Lowell says the bigger product differentiation challenge for airlines is that while third-party distribution channels are prevalent and effective, they lack the ability to deliver true product differentiation. As such, airlines have been stuck differentiating only on price. "But that is all changing," she says. "Product differentiation capabilities in the indirect channel are a key part of IATA NDC XML schema as each airline can provide ancillary products or service consumer-friendly icons, marketing names and descriptions that include both text and multimedia. From my perspective, this new functionality is in the realm of 'A picture is worth a thousand words'," she says.
On the readiness of the industry to adopt new IATA NDC XML standard, Lowell says she "has seen an overwhelming commitment on behalf of the airline industry to influence its capabilities". She also believes that the airline industry is ready to invest in the IT resources required to adopt the standard. "I also believe that as NDC pilot projects move forward and as we see the success of these pilots, we will see more and more airlines adopting the standard and the capabilities it provides," she says.
Personalisation and differentiation are high on the agenda of airlines today. The significance of mobile devices has propelled airlines, like all other suppliers, to continuously look at their digital presence and ensure it is responsive to the interaction type. In addition, airlines are trying to be more meaningful to visitors and there are many products offered today that are valued by, in particular, corporate travellers – premium seating, priority boarding, lounge access and so on. Airlines have to work on all this and build up their retailing activities in order to sustain and grow sales.
Related Reads
comments powered by

Disqus