Nov 12, 2012
Mobile offerings, specifically targeted at business travellers and the corporate travel segment, have evolved considerably over the last few of years, helped by a few strategic alliances along the way.
As mobile travel technology continues to improve on-the-go services and optimise travel spend and expense management processes, the sector has also witnessed some important strategic alliances.
Only a few days ago Carlson Wagonlit Travel (CWT) acquired WorldMate, a company headquartered in San Francisco with operations in Israel. Late last year, travel management company Egencia acquired Traveldoo, a provider of web and mobile platforms for business travel management.
"Over the past decade, the migration from a voice-based to web-based service model has been disruptive to the travel industry," says Nabih El Aroussi, president & chief executive, Traveldoo, "and within the next five years, the rise of mobile Internet as the primary channel for information and bookings will be equally challenging for TMCs."
On the recent deal between CWT and WorldMate, El Aroussi says: "We would certainly need to hear more from CWT regarding the strategy they are pursuing and how they will deal with existing Worldmate customers and partners."
For its part, France-based Traveldoo, after opening a new office in central London in late October, is planning to expand its operations in Germany in 2013.
EyeforTravel's Ritesh Gupta talks to El Aroussi about recent developments in the category.
EFT: How has mobile travel technology improved itinerary management systems and on-the-road services for travellers?
NEA: We developed itinerary management apps targeted to corporate travellers. In doing so we had to take into account the mobile devices primarily used in a corporate environment (composed of a mix of various generations of business mobile devices, including type devices such as Blackberry and the latest-generation touch devices). We also had to consolidate multi-channel booking data and deliver content specific to managed business travel – travel policy compliance, approval status, negotiated fares and rates, click-to call and click-to-email customer service. To improve the mobile traveller experience, the app helps locate hotels, car hire agencies, rail stations and airports, provides in-app emailing to share selected itinerary information with colleagues and family - eg. messaging rail seating to a colleague.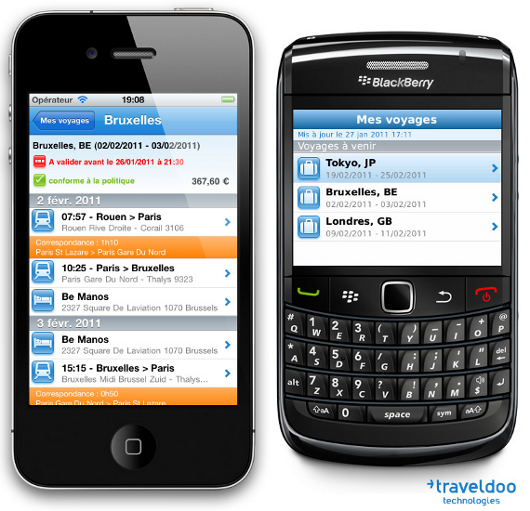 EFT: What new mobile-related initiatives is Traveldoo working on?
NEA: In line with the consumerisation of IT, our roadmap is very much driven by delivering consumer-grade corporate booking experience and expense reporting to smartphones and tablets users.
EFT: Traveldoo recently opened a new office in central London. How has your company expanded its operations over the last year or so and what are plans for 2013?
NEA: The launch of Traveldoo UK, is part of an initiative to expand internationally and strengthen our presence in key markets, following the acquisition by Expedia Inc in December last year. In addition to sales & marketing operations, the new office will provide local support and account management to our local UK customers and TMC partners.
In 2013 we will continue on the same path and, in particular, we plan to expand in Germany.
EFT: How has mobile played its part in the enhancing business travellers' planning and booking experience?
NEA: Mobile is helping enhance the business travellers' planning and booking experience by enabling anytime anywhere access to corporate preferred booking channels, preferred supplier content, negotiated fares and rates, company recommendations, booking and approval status. It also provides a single place for reaching out to the product-specific customer service that may delivered by the company's TMC, a hotel booking agency or the suppliers themselves, depending on clients' sourcing approach.
EFT: How have you optimised your offering considering that a considerable amount of European business travel spend is unmanaged?
NEA: When travellers search the web and book directly in a supplier/ OTA website, we want to integrate the data back in our end-to-end travel and expense management platform and provide the client and TMC with a consolidated view on 100% of the travel spend.
We have integrated non GDS data feeds from preferred travel vendors, such as Avis, rail reservation systems (Trainline), Taxi services (BTR) and started to experience this in the UK.
We will eventually add automated processing capabilities to handle bookings made on any supplier/OTA websites.
EFT: When it comes to optimising travel spend and expense management processes what is your main focus?
NEA: Well it is primarily two-fold: building the best possible user experience on desktops, smartphones and tablets and enabling personalisation through flexible company-level settings, travellers preferences and advanced integration capabilities with corporate IT systems. As part of expense management process optimisation, we have developed new ways to automate expense reporting.
EFT: Egencia acquired Traveldoo around this time last year. Since then how have you strengthened your core offering and operations?
NEA: Traveldoo is known as an innovative company. Now being part of the Expedia group, the world's largest online travel company, we plan to accelerate the pace of innovation and product development and extend our reach to new markets across diverse geographies.
It has been a great and busy year; we have doubled our investments in new product development. In September, we opened our new office in London. In October, we've launched our brand new Traveldoo Expense (it simplifies the creation and processing of expense due to the automatic integration of expenses and mobile web interfaces). And we will also soon integrate Expedia Hotels' content within our corporate booking platform, with a distinctive user experience and service model, meeting the needs of our corporate customers.
Related Reads
comments powered by

Disqus