Jan 7, 2013
Experts recommend that working on mobile-related initiatives isn't only about conversion; one should consider the overall experience. EasyJet's head of digital, James Millett, says it's critical to have an optimised booking funnel but a smooth in-airport process is a growing priority.
Few suppliers and intermediaries joined the mobile bandwagon early on and even those that did haven't always had guaranteed success. easyJet which introduced its first smartphone app, suitable for both iPhones and Android smartphones, around this time last year has largely proved that there is no need to rush just for the sake of it. Launching its first mobile optimised website across Europe in July 2012, easyJet has rather seen mobile as an avenue to complement its existing strategy of making travel easier for passengers. According to the company, one of the highlights of its app is being the 'fastest airline booking app' available; it is possible to book a flight on more than 580 routes in less than half-a-minute.
"We've exploded into the market this year [2012] with the launch of iPhone and Android apps and a mobile optimised website," says Millett and "we've seen over 3m downloads and over £50 million revenue through this channel.
"EyeforTravel's Ritesh Gupta caught up with Millett about the airline's plans to build on what it has done over the past 12-18 months.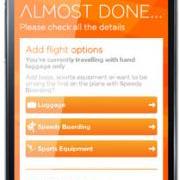 EFT: Can you expand the sort of functionalities your app currently features?
JM: We feature core functionalities that make it easier for our customers on the move. These include the ability to search or book a flight, check your flight status, add bags or hotels post booking your flight, add your details directly to your calendar and store all booking details.
EFT: What have been your major lessons this year?
JM: It's critical to keep it simple to ensure long term scalability. The app store and social feedback is also a great place to recognise what's important to our customers and prioritise improvements accordingly.
EFT: How do you think easyJet has set a benchmark in the industry with its mobile
JM: We're constantly looking at global best practice both within the travel sector and outside of it. We're ambitious in this space and have a great team who are passionate about mobile and its use to improve customer experience and drive commercial value.
EFT: What is the future for your mobile portfolio going forward?
JM: We see our presence so far as being very much the beginning of the journey. There is a huge opportunity to focus on our business drivers of driving incremental revenue and removing cost from our operation. We'll do this by focusing on making the in-airport experience easier and putting information literally at our customers' finger tips. We're working on significant developments to our flight status functionality, mobile boarding passes and opportunities to bring relevant partner offers to our customers.
EFT: Which aspect of passenger's journey – dreaming, planning, booking, travelling or post trip - do you think your mobile website or apps complement best?
JM: There are huge opportunities throughout the customer journey. It's critical to have an optimised booking funnel, but we see the in-airport process as a focus area to make the travel experience easier for our customers.
EFT: With 3 million downloads in less than a year, how do you plan to sustain interest in your app? What do you think is to key to having higher retention rate?
JM: We've got to keep it current, keep listening to our customers and develop the functionality that they actively demand. With 60 million passengers having to carry a printed boarding pass the 2013 introduction of mobile boarding passes will be a real step forward. Our app customers are highly engaged with 18% having made five or more bookings with us. We need to build on this and share this existing functionality. For example, if you book on easyJet.com in less than 10 seconds you can log into the app, retrieve your new flight information and in just one-click see relevant hotels in your destination. We don't see the traditional web world and the mobile world - the reality is our new digital world is multichannel and our customers want to interact with us in a variety of complementary ways.
EFT: How the behaviour differs in case of Android and iOS apps?
JM: We see similar functions appealing on different platforms, but iPhone is dominant.
EasyJet's Head of Marketing, Greg O'Gorman, will be speaking at the annual EyeforTravel Travel Distribution Summit in London on May 23-24
Related Reads
comments powered by

Disqus