Oct 8, 2012
INTERVIEW: The ability to blend local information with social or sharing features and mobility is a potent combination and has become a major focus for companies like Yelp. EyeforTravel's Ritesh Gupta spoke to Dave Scheine, the company's director of European operations to find out how local search is shaping up on mobile devices.
The Internet and to a large extent mobile have become the primary way that consumers discover new local businesses. When you're able to tie user-generated information (such as reviews, photos and so on), along with traditional directory listings, suddenly search becomes a whole lot more useful.
Yelp believes that maps suddenly become more useful when you're able to tie in over 30 million reviews.
For example, say you're travelling to a new part of London and are in the mood for some Tikka Masala. Yelp gives you access not only to all the nearby Indian restaurants, but surfaces the best ones to try as reviewed by locals in the know, explains Scheine.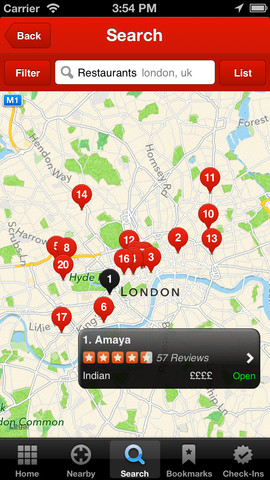 The research seems to back this up too. According to a survey by BrightLocal, over 77% of UK consumers have used the Internet to find a local business in the last 12 months. Also, 72% of UK consumers trust online reviews as much as personal recommendations. This goes for searching for local businesses as one would on platforms like Yelp.co.uk or searching for products on ecommerce sites such as Amazon.
EFT: How have mobile devices changed the way consumers go about local search?   
DS: Mobile devices have dramatically altered the way consumers search for local businesses. In particular consumers are starting to move away from traditional search engines and using more specialised apps to find information about businesses. Indeed, using apps significantly improves the discovery experience.
Smartphones are able to include proximity in one's search results. You can find businesses that are around you, making the relevance of the results paramount because a consumer looking for a business via their mobile device is likely to be looking to make an immediate purchase decision off the back of the results returned.
Another nifty feature of smartphones is the ability to leverage the phone's camera as another sensory point -commonly known as augmented reality. Within the Yelp app, we have a feature called Monocle that allows you to point the camera at a business and get information about that business overlayed on the screen. This is exciting for businesses as suddenly there is a new way for consumers to discover the business. However, it will require businesses to ensure that their information is up-to date not just on search engines like Google but also on sites like Yelp which have popular apps. Furthermore, businesses will need to think more carefully about optimising their websites for mobile---especially as more and more people are finding them through mobile apps.
EFT: How can local search enhance the whole location-based experience of consumers and location-based targeting on the part of advertisers?
DS: Advertisers can leverage location based services to offer a much more relevant and thus more effective campaign.
Imagine you are a large brand like Bacardi...you can not only show images of your product but show where consumers can easily find your products, more specifically the places closest to you at any point in time. If you're a brand, the ability to combine brand advertising with hyper local targeting and immediate call to action promotions is extremely powerful.
EFT: As consumers adopt new devices and methods to access local business information, online local listings are the most relevant and trusted search results. What should travel companies consider?
DS: It is true that online reviews posted by consumers are among the most trusted forms of advertising, easily beating other forms of media such as print, radio, and television. Consumers continue to go to online review sites like Yelp.co.uk to do research before dining at a restaurant, staying at a hotel, or deciding which plumber to call. Travel companies need to be present where consumers are making their purchasing decisions, whether this is advertising on such sites/apps or just monitoring customer feedback, it is important that they are front and centre and part of the consumer dialogue.
EFT: Can you list dos and don'ts for travel advertisers as they plan their ad spend for local search?
DS: Targeting matters - consider where people are going to make their purchasing decisions. Try to be hyper local. Often, big brands look for blanket advertising opportunities, where levels of engagement with final consumers is actually quite low. It is better to take a closer look at your consumers, find where they access information that will help influence their final buying decision and target those outlets more effectively. Reviews are very powerful and often dictate where consumers will spend their money. It would be foolish to ignore what consumers are saying about your company online.
EFT: A lot is expected from touch-computing at this stage. How should one go about planning for local search initiatives especially for tablets?
DS: Tablets are great because they combine the location-based services of smartphones with massive screens. At Yelp we've found photos really keep the user engaged when viewed on the tablet. People searching Yelp for great local businesses spend two and a half times as much time on a business page with photos as opposed to one without.
While Android tablets continue to grow in popularity, we're seeing most usage on the iPad. That said, Microsoft recently launched its new product called Surface to much buzz. Amazon is also making a big push with it's just launched Kindle Fire HD which priced below the iPad could help bring tablets to even more consumers. It is important for companies to be aware of the different devices and platforms currently on the market and their level of popularity within their consumer base, tailoring their efforts on each platform in accordance with their findings.
EFT: Social networks for local business search have increased considerably so what does this mean for travel companies?
DS: It's certainly true that instead of using traditional search for local businesses, consumers are turning to richer apps, which can tie together user reviews to business listings. The social elements included within Yelp, such as showing the reviews of 'friends' above those of strangers, help garner trust and believability over more anonymous sites that don't have these social aspects. As social networking continues to embed itself into the lives of the global population, companies must consider the peer group effect and how quickly word-of-mouth can spread amongst potential customers, whether that be good or bad word-of -mouth.
Related Reads
comments powered by

Disqus