Apr 10, 2012
Online travel intermediaries continue to expand and refine their mobile portfolio. From exclusive mobile deals to last minute deals to slick features like augmented reality, customised voice narratives and GPS functionality to letting users share their experiences via Facebook and Twitter, the apps today enable travellers find the hotel closest to them with the best deals instantaneously.
Hotel booking website Hotels.com, which recently launched its mobile app for Windows Phone 7, acknowledges that consumers are more than ever geared towards last minute bookings.
Referring to the launch of the site's new app, Christelle Chan, marketing director, Hotels.com said if the latest stats are anything to go by, Windows Phone popularity is set to increase over the next few years. The app is also currently available for iPhone and Android devices, as well as a custom built version for the iPad which was added to the portfolio in September last year.
Since it first launched the Hotels.com mobile app last year, the site has seen an increasing demand from people looking for hotels on the go, as 60-70 percent of all searches are made on the day they intend to stay.
"These last minute bookings are partly incremental bookings which we would not necessarily have captured before the mobile era - these customers would have been to a hotel counter at an airport or train station if they missed their plane or train. They now can easily access a large choice of hotels on their mobile, compare the prices and choose the perfect hotel for them," said Chan told EyeforTravel.com's Ritesh Gupta.
Positioning
Consumers are now comfortable with the usage of mobile apps for travel planning.
Traveling is by definition a mobile endeavour – any tool that provides passengers with up-to-date information about his/her itinerary in an easily accessible and visually appealing way, wherever the traveller might be at the time he or she is looking for the information, will certainly contribute to a satisfactory travel experience and potentially also to the passenger becoming a repeat client of the entity providing such tools.
In the case of mobile apps, they definitely need to have unique value propositions for travellers, especially considering that mobile usage indexes very high with both business and leisure guests.
It is recommended that app must depict and make it obvious what can be done with it. Ultimately your mobile strategy should reflect your ability to serve unmet consumer needs in a differentiated way. This is particularly true in the mobile space, where users want the ability to do anything on a mobile or tablet device, that they would normally be able to do on a desktop
In case of hotels.com, the site wants to offer its users the quickest, most seamless way to take care of travel while actually travelling.
As far as the communication strategy is concerned, Chan says given the switch in consumer behaviour and the emergence of a new segment, mobile marketing becomes a key component of the marketing mix.
Integrated Approach
Hotels.com makes use of all of its marketing channels when promoting its mobile activities.
Last year, hotels.com launched an integrated marketing campaign focusing on the online travel company's mobile booking application.
The campaign featured display ads, social media activation, and the www.thesmarterapp.com microsite, in addition to the digital video and claymation commercial. To promote the idea that you can easily and quickly book a hotel room from almost anywhere, even at the very last minute, hotels.com teamed up with extreme athlete and stuntman, JT Holmes, for a wild and exciting digital demonstration to prove just how easy it is to book a room while `on the fly'.
"We coordinated all our marketing channels during the apps launch phase, utilising PR, offline, online and mobile banners as well as on-site communication. This proved to be an effective strategy as our apps have been highly successful in the travel category from the moment of launch," Chan said in an interview last year.
As part of the initiative, Hotels.com released a viral video that demonstrated speed and ease of hotel bookings with Hotels.com app.
`The Hotels.com mobile booking app is so fast, you can book in a freefall…' was the story behind the new video which showed the world-renowned skydiver booking a hotel room while flying at over 115 miles per hour in a 15,000ft freefall before landing on the Lake Tahoe beach of the Hyatt Regency Lake Tahoe Resort, Spa & Casino and checking-in.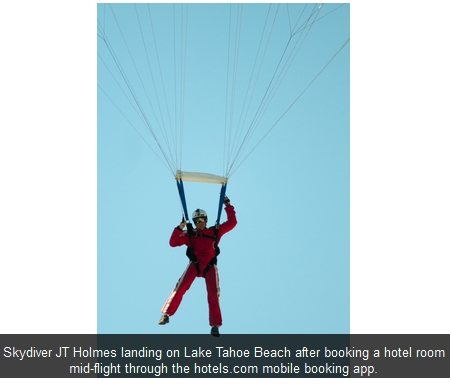 Related Reads
comments powered by

Disqus