Triposo, KLM, Bookassist: Three mobile categories, 160 entrants, three winners
May 29, 2013
At every Travel Distribution Summit, EyeforTravel rewards members of the travel industry for innovating in a particular field. This year mobile innovation was the theme of the competition. Pamela Whitby found out what drives the winners of the competition, who collected their award in London last week.
At last year's Travel Distribution Summit, Europe everybody was talking about mobile – whether they should invest, where, how and why they should invest. This year, there is no doubt: mobile is big today and mobile is the future. Unsurprisingly then, EyeforTravel decided to focus in on the companies which are truly standing out with their mobile offering.
The competition was intense; 160 brands entered and these then had to be whittled down to 10 per category. The categories were for: best mobile web, best mobile app and best mobile solution.
What followed was five weeks of voting to then decide the lucky three finalists. On the first day of TDS Europe the finalists were given a five-minute slot to pitch to three judges: Tim Gunstone, managing director, EyeforTravel, Hugo Burge, chief executive, Momondo Group and Christopher Persson, founder, Oakroot.
1.      Best Mobile App
In the best mobile app category the winner was judged on design, usefulness, specific features and controls, the user experience, speed and performance, technology and marketing. The applicants were also asked to highlight problems and show qualitative and quantitative data to support claims of success. In this category, Triposo, Lufthansa and S7 Airline were named the three finalists.
Against stiff competition it was Triposo, an app that allows you to 'take travel decisions on the spot', that took this award home. 
Richard Osinga, Triposo's founder that this to say: "With an app in your pocket that has all the information on all the sites you use and everything to do, you don't need to plan so much ahead. That's the app we want to be."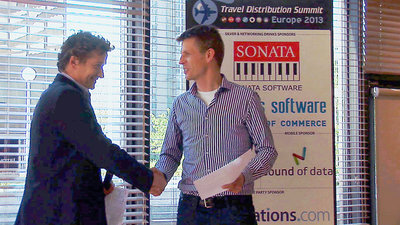 What makes Triposo stand out, says Osinga, is its rich content. At the same time the interface is pretty simple and straightforward. The suggestions it makes change when you move around and are different depending on the time of day we can try to highlight what is most relevant to you right now.
And what makes a great travel app? For Triposo a great travel app takes into account how people use their mobile phones and what they use them for. They use them very often, everywhere and many times just for a short period. "So if you build a great travel app you want an app that can be used that way," he says.
2.      Best Mobile Website
There were fewer criteria for this category: technology, usability, graphic design, strategy (was this mobile strategy adopted for the right reasons…) and, of course, results. Again, there were three finalists – Arcotelhotels.com, Hotels.com and KLM - and stiff competition from other entrants. And the winner of this award was the Dutch national carrier, KLM.
For Javier Wanga, KLM' team manager for mobile, the complex world we live in makes it very hard sometimes to deliver a mobile website that brings value to the customer. But think you have to go to KLM's full website to get all that the airline has to offer online? Think again, says Wanga. On KLM's mobile website you can get all the information you need. Think that you can design a mobile website and leave it at that? Think again too. The mobile website in its current design was launched in 2010 but has undergone many functional and visual changes since then. "We are still working on improvements, it is an ongoing effort that will never stop," he says.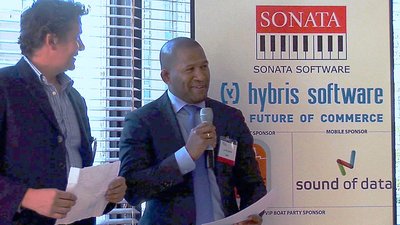 Looking to the future, KLM is constantly evaluating its mobile website and other mobile related activities. The main focus is quality of service, which means they take customer feedback very seriously.  
As the only hotel group to made the top three, Arcotelhotels deserves a mention. Franziska Kramer, Online Marketing Manager Arcotelhotels says this shows they are on the right track with our mobile strategy and will continue to invest in mobile.
3.      Best Mobile Solution
This award was judged on all the criteria used for both the mobile app and web categories but the judges also wanted to hear about innovation (how does this solve a problem or improve and existing solution); integration (were, for example, business process changes made as a result of being able to leverage mobile as channel) and finally the future (had the solution considered how consumer behaviour might change).
In this category, from a shortlist of eight there were two finalists – Sound of Data, with its m-Power Amadeus solution) and BookAssist. 
And the winner was Bookassist, which has been supplying technology to the hotel industry for over 13 years.
According to Des O'Mahony, Bookassist's chief executive they see up to 20% of traffic to hotels now coming on mobile and the solution means that hotels can capture and convert that traffic into real booking revenue. "We have hundreds of hotels already using the technology, and Arcotelhotels (shortlisted for best mobile app above) in particular is a prime example of what hotels should be doing in the mobile space," he says. Bookassist's data shows that hotels using its webapp system generated 87% more revenue on average in the last six months from mobile business than those using responsive design approaches.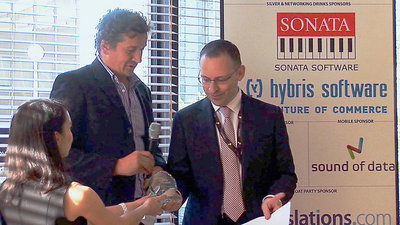 O'Mahony believes the primary solution for hotels in the mobile space must be a focused webapp solution that can quickly delivers the key information and services of the hotel. Mobile webapps for hotels, he adds, are just one tap from the search results list, the predominant access point for hotels on mobile and critical for mobile business. BookAssist is a customisable cross-platform, tailored solution that hotels can use to reach their own mobile customers directly – a major bonus for hotels. 
For O'Mahony getting on the shortlist alone was recognition from the industry that we are certainly doing something right. "Our clients must have voted in considerable numbers to support us at that point of the competition," he says.
Related Reads
comments powered by

Disqus