Meet an OTA that is relying on 'big data' to work like a real-life agent
Oct 3, 2013
By drawing on years of first-hand customer experience as a brick-and-mortar agent and combining this with big data, recently launched Fareboom believes it really has the power to differentiate. EyeforTravel.com's Ritesh Gupta hears how.
The race to help travellers find the best possible flight for their needs continues and new intermediaries continue to surface buoyed by confidence in their own technology. Recently launched online travel agency Fareboom.com, which says big data is a key differentiator, is no exception. This business operated first as a brick-and-mortar store - the Best Travel Store - and then evolved into an OTA, according to Marko Cadez, Fareboom.com's chief executive officer. "We're not trying to be the cheapest or the fastest – we want to set a benchmark for providing the best possible overall flight experience," says Cadez.
EyeforTravel.com caught up with Cadez to discuss the new offering and its reliance on 'big data'.
EFT: What is being attempted by Fareboom.com that hasn't been done before?
MC: There's certainly no shortage of OTAs in the market today that have strived to improve search functionality. What makes Fareboom different is that we've tried to design our search algorithms to work more like a real-life travel agent.
The question customers ask us most often is: "How can I get a better deal?" A human agent will use their experience to suggest alternate travel dates, airports and airlines, and combine this information with available flight options. Helping flexible travellers find the best deal is a remarkably difficult task, involving thousands of combinations at a minimum.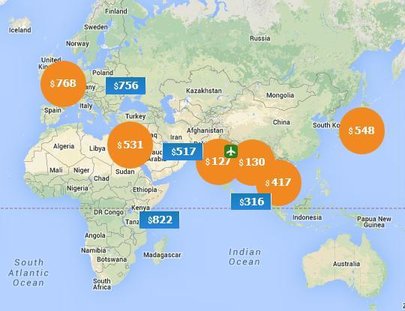 EFT: How are you trying to solve the planning and search problem?
MC: We have developed several tools:
1.       We designed our search to search for best airfares within a full week range. This is a total of 49-day combinations on a single round trip (7x7 days). Few airline sites offer such extended search, however, limited to their own flights only. We do it by combining hundreds of airlines, solving a significantly more complex problem.
2.       The second unique feature is radius search, which scans for alternative airports within a 175-mile radius to find the lowest fares. This is especially useful for leisure travellers who wish to maximise their savings by using alternate airports where fares may be cheaper by hundreds.
3.       The third feature is the ability to book flights directly from our Fare Cruncher map. This allows users to view the cheapest possible fares to worldwide destinations based on seasons in order to target optimal travel dates and destinations, and also provide real-time booking access to these lowest fares.
4.       Fourth, since we are not a meta-search engine we can focus on transparency and customer satisfaction rather than making money from our advertiser's clicks and conversions. We display all fare rules upfront so you know which fares are refundable and/or changeable and which ones are not. We do not slap you with hidden fees that you can expect to pay when booking through many meta-search engine participants.
What most people do not realise until it is too late is the lack of transparency and lack of any meta-search engine accountability after you booked. Customers may end up being stuck with dubious ticketing providers, where reservations may not actually be confirmed at the time of booking, where airline schedule changes are not handled properly, and where it is almost impossible to make changes or cancel your reservation. As a brick-and-mortar travel agency, Fareboom has always been a travel agency first and a technology company second.
5.       Our Best Value flight sorting algorithm is designed to mimic true costs associated with flying, from purchasing meals and drinks during stops at airports, paying for rooms during overnight stays, paying train or bus fares when changing airports to simply placing value on the time spent flying, and finally evaluating airline quality and free baggage allowance. Since we are a traditional travel agency we are able to store our customers' profiles and their search preferences in order to customise results sorting and make repeated bookings quick and easy.
On top of that, we always make sure that our customers can quickly access a real-life service agent the moment there's a problem with their flight in any way. This is one aspect that meta-searches simply can't replicate.
So with both our unique technology and our quick customer service, we provide an OTA experience that's as close as dealing with a real-life travel agent as you can get.
EFT: Can you explain how are you focusing on big data?  
MC: We use 'big data' in two ways:
1) Helping users plan their trip via the Fare Cruncher Map and its related multi-month fare displays; and
2) Helping drive our real-time search decisions by identifying better routes that might yield lower fares based on past user search statistics.
The truth is that almost all online suppliers have access to almost identical fare inventory. The art is in finding flight combinations that match complex restrictions associated with each fare better than your competition.
EFT: What do you mean by focusing on a custom search strategy to dig into airfare data?

MC: We have real-time route building capability to drive our search decisions better than the competition. We also rely more on real-time seat availability, serving fresher results that are resulting in fewer sales rejections due to expired availability.
There are lots of complex real-time decision-making happening behind the scenes, since the airfare search problem is unique in that we can never search all known combinations due to the inherent time limitation and data-scanning cost constraints.
Our customised search works best in more complex, international itineraries.
EFT: There have been services that send alerts whenever fares are at their cheapest and are unlikely to drop any lower. How does your offering stand out?  
MC: You're right that fare alerts certainly aren't unique to Fareboom. However, we feel that people really want this type of service and we have strived to make it as streamlined and efficient as possible. For example, we allow our users to set fare alerts for multiple departure and arrival cities and within a +/-3 day range to return more lower fares quicker.
To hear more about how to become a data intelligent organisation and stand out from your competition join us for a free webinar on Tuesday October 8
Related Reads
comments powered by

Disqus