How to Drive Meaningful Engagement via Social Media – Part 2: Twitter & Facebook Guidelines for Success
Jul 3, 2012
In the second of a three part series examining social media engagement, we outline some useful guidelines on what really works when it comes to engaging customers on Twitter and Facebook.
By Gina Baillie
What is clear is this: simply focusing on building followers across social media channels is not enough.  A key challenge for those responsible for social media is retaining social media fans and followers and encouraging them to keep engaging with the brand.  The tone, personality, phrasing and frequency of each and every post all need to be considered carefully. 
With the help of Sarah Clark, VP product & marketing at STA Travel and Marco Fanton, social media director for Melia International, EyeforTravel has put together a brief list of guidelines to help travel brands get the most out of Twitter and Facebook.
#Rule 1 – Treat each community differently - what works on Twitter doesn't necessarily work on Facebook
Twitter and Facebook require fundamentally different communication approaches.  Twitter users are more likely to be looking for immediate, information-led updates from your brand.  Tweets have a word limit of 140 characters and so by nature are short. 
A recent worldwide survey by comScore found that people spend 18% of their total Internet time on Facebook versus just 0.27% on Twitter.
Facebook offers the ideal opportunity to gain a deeper level of engagement with customers. It does this by facilitating the use of images, apps and videos which, given the inspirational nature of travel, are ideal tools for travel brands to use as talking points. 
#Rule 2 - People want to engage with people – not logos
STA Travel emphasises the importance of injecting personalities into the brand's presence on these sites.  After all, your employees are your brand ambassadors.  The firm found that customers respond well to knowing that there is a person behind the brand logo.
Wherever possible, STA Travel names the person from STA who is posting on both Twitter and Facebook accounts.  As you can see from the Facebook example below, the consumer notices this and often responds positively.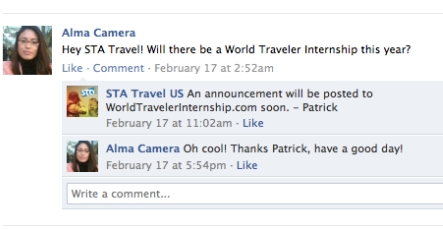 If a name is not used then STA finds that an image also works well.  From this post alone, they received over 350 clicks through to their website.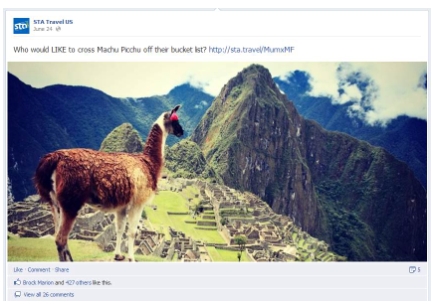 #Rule 3 - Don't be afraid to ask for engagement
As the Facebook post by STA Travel below shows, travel is an exciting product, so don't be afraid to reach out and share the excitement!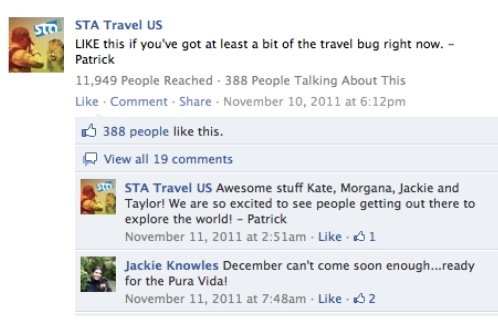 #Rule 4 – It is not about the brand – it's about the community
Melia International's 'Room of Dreams' campaign is just one example. The campaign, which involved converting a room in one of its hotels into a mural featuring the community wishes of fans on Facebook, was a huge success.  By putting the community at the heart of the social media campaign Melia quickly learnt the power of listening to and involving their community.   In a similar vein, STA Travel also highlights the importance of not taking your brand too seriously and encouraging people to have fun. 
#Rule 5 – Engage with relevant partners to expand your reach
Last winter, Melia International partnered with snow brands Quiksilver and Roxy to launch an international campaign called 'Snow Star' with the aim of promoting the chain's ski resort hotels.   The campaign involved the use of an application on Facebook and ran for three weeks.  Users were asked to submit photos and text describing why they deserved to be a 'Snow Star'.
The campaign along with the 'Room of Dreams' has helped Melia International to breach 500,000 fans in February 2012.
For further information on the topic of how to achieve meaningful social media engagement, download EyeforTravel's free webinar titled 'Learn How to Drive Meaningful Engagement via Social Media.
Speakers include Lara Solomon, head of communications, Responsibletravel.com and Frederick Buhr, VP e-Commerce, RailEurope.
You can download the webinar for free here
Next week: Part 3 of this series will continue by examining top tips to engage your customers via emerging social media platforms.
Last week:  Read Part 1of the 'How to Drive Meaningful Engagement via Social Media' series which examines internal structure here.
Stay tuned for updates via www.twitter.com/eyefortravel
Related Reads
comments powered by

Disqus