Mamma Mia! Look what happens when a tourist attraction harnesses social
Apr 22, 2013
Most museum exhibits were designed long before social media became mainstream. But a new museum now taking shape in Stockholm has found a way to allow visitors to create media clips of their experiences and share them to their social media pages. Andrew Hennigan has been given an early preview
On the island of Djurgården, a short tram or ferry ride from downtown Stockholm, an L-shaped ziggurat with floor-to-ceiling windows is nearing completion. The new building will house the Swedish Music Hall of Fame plus a 50-room boutique hotel. 
Designed to showcase Sweden's musical history, the Hall of Fame will host events, conferences and exhibitions, both temporary and permanent. Among the three permanent exhibitions is the one that will most appeal to visitors from outside Sweden: Abba The Museum which is set to open to the public on May 7.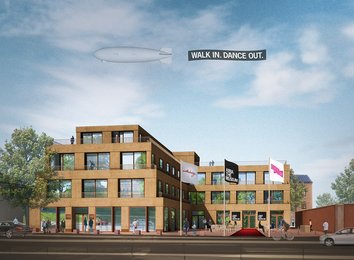 'Abba The Museum' occupies a large part of the building's exhibition space with set pieces to illustrate key milestones in the history of the group. There are interactive exhibits where visitors can do much more than look, as well as a collection of authentic memorabilia.
One impressive exhibit is a reconstruction of the original Polar Studios in Stockholm which used to record many Abba hits and also albums by Led Zeppelin, Genesis and Roxette. In the studio is the original mixing console, instruments and other equipment.  Within this exhibit, visitors can try their hand at remixing classic Abba tracks and also record their own version of the hits in the line of singing booths at one end of the studio.
New opportunities, simple solutions
Back in the days before social media, visitors might have been happy just to try these activities. However, today many people want to share their efforts with friends and this is where Abba The Museum is different. For each interactive exhibit the museum allows you to share the results through your social media accounts, and also to keep them for later. Admittedly it sounds like this could be complicated by privacy issues but the museum believes it has found a solution that is simple, secure and reasonably future proof.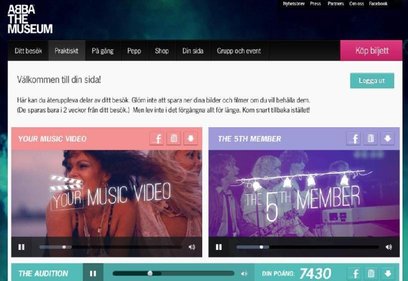 "When you arrive at the museum you give your booking code and are given a printed ticket," says my guide, Abba The Museum chief executive Mattias Hansson. "At the same time we automatically create a personal page for you on the museum website. On this ticket there is a bar code. You simply present this bar code to a reader at each exhibit and the clip you have created goes to your web page. You can then share the clips using standard sharing buttons or download them."  These personal pages are not visible to anyone else and are automatically deleted after a few months.
Other interactive exhibits offer the same sharing option. In one of the largest sets there is a stage. "The four members of Abba will be projected life-size on this stage and you can become the fifth member of the band, singing and dancing on the same stage," says Hansson. "This is recorded by a video camera and saved to your home page."  You can also try on iconic Abba costumes virtually thanks to a motion-sensing device that adds them digitally to your image on a screen.
Abba The Museum targets a broad demographic. First generation Abba fans were people who heard the hits during the 1970s and 80s, before the group split in 1986. However, the musical and film Mamma Mia generated a totally new market for Abba, says Hansson by introducing the music to a new generation. Some second-generation Abba fans simply grew up in homes where Abba music was played.
Sharing makes it memorable
Entrepreneur Lucy Robertshaw wasn't even born when Abba made their international breakthrough at the 1974 Eurovision song contest. "My parents loved Abba and I really like their music", she says. "I am most certainly going to visit the museum and it will be exciting to try the interactive exhibits and make a digital recording," she says. As a digital native, Robertshaw expects to share some of the results through social media, and is very positive about the idea. "Sharing makes it more memorable, as though you are taking something away with you", she says. "It makes you feel like they want you to be part of the experience and gives you a feeling that it is better value for money."
Of course not everyone is attracted by interactive exhibits, nor uses social media, but the museum offers plenty for them too.  Helga van de Kar, president of the official International Abba Fan Club, was a serious fan long before social media was invented. "What I like most is the costumes and all the original things: records, instruments, old photos, papers and so on," she says. But that does not mean she will ignore the new attractions.  "I am curious to try the interactive exhibits though I don't plan on sharing the results through social media simply because I don't use it for private things," she says.                     
Not all the interactivity in the museum is digital. Another original feature is a chunky red dial telephone, the same one Agnetha Fältskog holds in publicity photos for the early Abba hit Ring Ring. "This phone is connected to an outside line and only four people know the number – the four members of Abba," says Hansson. "Next to the phone there is a sign telling people that if it rings they should answer it because it will be someone from Abba calling. It will be a real live phone call and they have promised to call regularly."
Staying fresh
With so many interactive exhibits based on technology there is always a danger that the museum could look dated after a few years. But Abba The Museum says they have built a strategy to review all the exhibits at least every two years. "Some things will need to be replaced but history tells us that we will be able to use some things for 20 years."  Linked with this strategy is the decision to focus today on the Stockholm museum. "Though there are so many opportunities for virtual visits we are not going to do that for now. And the only travelling exhibitions will be to promote the museum. You have to be here," says Hansson.
Related Reads
comments powered by

Disqus