Aug 28, 2013
There is no one-size-fits-all approach to successfully engaging with fans and followers on social. Instead its about being sensitive to various cultures or markets, adapting to the strength of each social outlet and being proactive and creative. EyeforTravel's Ritesh Gupta finds out what some of the top brands are doing on social.
Travel companies have worked out specific tactics for their presence on various channels as part of their social media strategy. A tailored approach for each social network is a must as it's directly related to an entity's business objectives today. In addition to targeting content for various social networks, synchronising the look and feel of social media accounts and the tone of the messaging are other aspects that matter.
Essentially this means one can observe diversity in engagement, content, promotions and so on.
In the past few years, travel companies have developed apps that are built in to their Facebook pages and have initiated contests to attract fans or users to their pages to drive engagement. For Twitter, many travel organisations offer deals to gain followers or seem to be on high alert and always ready to respond or take part in a conversation. YouTube features customer testimonials, showcasing corporate culture, tutorials or tips on how-to make use of an offering (websites, apps) and so on.
Savvy moves
"We tailor our content depending on the platform," says Alison Zamora, social media manager at Preferred Hotel Group. On any given day, what you see on Facebook is not what you'll see on Twitter or Instagram or Google+, she says. Here is how it differs:
·          Twitter: On Twitter, PHG content is very much a response to what travellers are talking about. About 90% of content on Twitter is a response to a consumer or an interaction with a member hotel.
·          Instagram: On Instagram, PHG wants to give followers a glimpse of what it's like to stay at a member hotel, so the group works with contacts on property and even with their own associates to source photos. None of the photos posted are professional. In fact the company's president, Lindsey Ueberroth loves sharing photos of her travels, so many of the photos are from her directly.
·          Pinterest: This one is very much a 'visual vacation', so there's a bit of personal wanderlust that goes into what the group pins.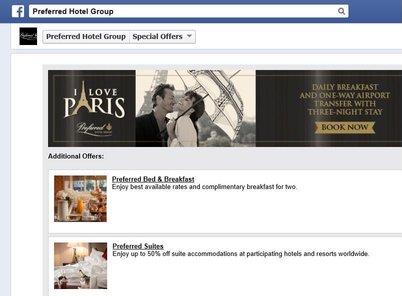 Taking it day-to-day
The challenge is to generate engaging, shareable content that will enhance the user experience. "We need to give customers a reason to engage continuously on our social channels," says Jeremy Osborne, digital director at TUI UK & Ireland. There used to be a planned approach, which could be days or weeks in advance.
But now the whole task of making every post, tweet or mention compelling just isn't the same, he says.
Zamora agrees. "For us, there's definitely been a shift from having a pre-planned editorial calendar where we planned our posts weeks in advance. Now, we just take it day-by-day," she says. This gives the brand more freedom; it's able to be a lot more agile depending on what's happening at member hotels or in the world in general.
Listening is very important when it comes to content strategy and creation. According to Zamora, by keeping your ear to the ground, you can better understand what consumers are talking about, what they respond to, and what resonates most with them. "It's important to take the time to listen. These channels aren't just for broadcasting your own messages – there are valuable insights if you pay attention," she stresses.
No secret formula
For the team at Best Western, there is no universal formula to successfully engaging with your customers on social, but there are a few key components that have helped this hotel group resonate better with guests:
1)      Be authentic – Authenticity is a key component to successfully engaging with your audience. When building content for posting, staying true to your brand, its values, and the customers that support it, are all critical components for success. Each customer has willingly taken the time to 'like' or 'follow' your page, so maintaining an authentic voice is valuable to a consistent experience for the customer.
2)      Be conversational – Customers can open a magazine, turn on a TV, or listen to the radio to receive their fill of direct advertising. The biggest mistake made by many brands on social is they are talking at their customers. An important pillar to social success is to maintain a conversation with your customers. This means that a brand should be the conservator and catalyst to conversation, not the director of a brand message. 
"In the case of Best Western, we recognise that the hotel experience is often a part of a much greater travel experience. This insight means that Best Western is often engaging in conversation about the joy and love of travel as a whole, and not necessarily segmenting lodging as the only topic of conversation," says Karmela Gaffney - managing director, marketing and e-commerce, Best Western International.
3)      Stay Active – Many brands move in and out of social media, this creates an inconsistent customer experience.  When someone engages with a brand via social media, it is imperative that the brand be ready to respond and reply as needed. 
"Presence within social media cannot be turned off once it is turned on. Once a customer has engaged, they expect regular content and quick responses to any of their feedback. Best Western recognises this and places great value in regular posting (at least once per day) and timely responses to customer inquiries/feedback," says Gaffney.
4)      Always Reward – A customer hitting 'like' or 'follow' is a voluntary decision.  Showing appreciation and recognition to your social audience is a way of recognising that you value their advocacy and participation in your brand conversation. "Best Western knows that it is important to recognise this level of participation through value and rewards," says Gaffney. Through weekly promotions like Travel Trivia, and larger seasonal campaigns, Best Western is always looking for opportunities to reward their audience with free room nights, Best Western Reward points, Best Western Travel Cards, and various partner incentives. These giveaways and rewards are a way for a brand to show recognition and appreciation to their customers.
Related Reads
comments powered by

Disqus