Mar 8, 2013
If you are not seriously thinking about how you can focus your business towards Chinese tourists then perhaps it is time to think again. In Europe in particular - an unprecedented boom in outbound tourism is taking place.
China and its increasingly mobile people are an opportunity for the travel industry today. In particular, travel brands in France, the UK and Italy should be getting to grips with how they can attract Chinese tourists. Why these three nations? Because in a new report from China Confidential, a Financial Times research service, these three countries are on the top of the list. "Our survey shows that the top three destinations China's middle class want to travel to in the next 12 months are France, the UK and Italy," says James Kynge,Head of FT China Confidential.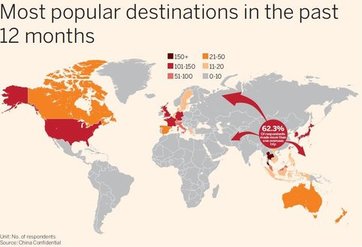 In fact, Europe is now the preferred travel destination for China's burgeoning middle class and investors – yes travel firms and in particular luxury brands too - should be looking closely at the luxury brands that are drawing this growing market."
According to Kynge China's middle class appetite for overseas travel and purchasing luxury goods abroad is increasing at an unprecedented level. "We are likely to see some 200m Chinese following this trend by the end of this decade alone," he says.
From corporate executives at the top of the income ladder to retired workers, Chinese tourism is being fuelled by rising incomes, currency appreciation, an increasing number of international flights, the relaxation of visa restrictions and a growing desire to explore the world. As EyeforTravel reported in February (Chinese Fireworks: Will your travel brand survive in the Year of the Snake) there is a real need for brands to get under the skin of the Chinese tourist. One area, where Chinese tourists can really up their game is on the social media front, said ChinaContact's managing director, Roy Graff, who will be speaking in Singapore. Why? Because the Chinese are very social and love to share images and content with others while on the road. So facilitating the ability to share and tag content and check-in to places while on site – and not just on Twitter and Foursquare but also on Chinese equivalents like Sina-Weibo – could be a competitive advantage.
China Confidential surveyed 1,227 middle -income consumers and 39 travel agencies in ten first- and second-tier cities across China. The key points are:
1.    Overseas travel for China's middle class is set to burgeon in 2013, with a potential 34% increase in spending, totalling some $160bn
2.    According to the China Tourism Academy, if the total number of outbound Chinese travellers continues to grow at last year's 17% to 82m, then some 200m Chinese could be travelling abroad annually by 2020
3.    The wealthiest 26% of outbound tourists - around 21m people – spent an average of $7,032 on each trip in 2012
4.    62.3% of the survey group have made more than one overseas trip and 25% have travelled abroad three times or more over the past 12 months. Those surveyed plan to spend an average of 33% more on their next foreign trip than their previous one
5.    Luxury featured strongly in outbound traveller spending habits, with over half saying the reason for buying goods overseas was that they were not fake
6.    The UK is the second top destination for the Chinese middle class to visit in the next 12 months, beaten only by France
7.    Four of the top five countries that Chinese tourists plan to visit this year are in Europe, while nine of their top ten dream holiday destinations are also in Europe.
Not convinced? Join us for more insights into the Chinese market at the EyeforTravel Travel Distribution Summit Asia in Singapore from May 28-29 
Related Reads
comments powered by

Disqus