Is your hotel website optimised for hyper-local SEO?
Mar 16, 2012
Google quietly rolled out the Venice update earlier this year. This update has a heavy impact on the localisation of search.
The description from Google:
Improvements to ranking for local search results. [launch codename "Venice"] This improvement improves the triggering of Local Universal results by relying more on the ranking of our main search results as a signal.
In short, it means that Google will try its best to serve you localised results based on your location, regardless of if your search query is geo-targeted. For example, if your location on the left-hand side of the SERP is New York, you will receive different results for "hotel" than if your location was set to Chicago.
Compare these results for New York City: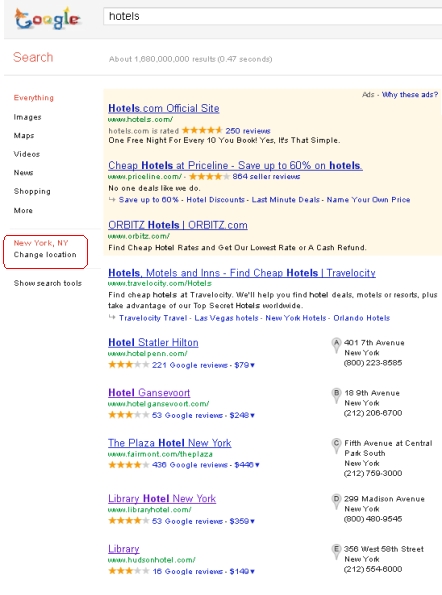 to the results for Chicago, IL: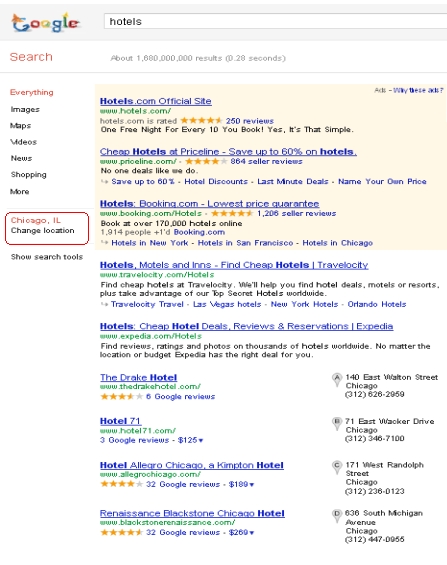 To get these localised results previously, you would have had to search "New York hotel" or "Chicago hotel." Now Google parses your results based on your location – for location-dependent queries. If you search "The Beatles," your results are the same whether you are in Chicago, New York, or San Francisco.
What Does it Mean for Hoteliers?
Hotels are inherently location-based, and therefore this update has heavy implications for hoteliers. Users now have the ability to search for "downtown hotels" and receive results that are more relevant than they have been in the past. While many hoteliers already have a geo-targeted SEO strategy targeting long-tail keywords addressing the location, nearby attractions, etc., it is important to cover all your other SEO bases to ensure the best results. The new update also places more emphasis on local listings, often times serving the "map pack" at the top of the page.
What is the Solution?
Explore all your options for hyper-local SEO. As HeBS Digital has always recommended, your on-page SEO strategy should focus on geo-targeted keywords. Why target "hotels" when you can target "downtown Miami hotels" and achieve a better conversion rate? Once your own content is geo-targeted, you can move on to updating content that lives elsewhere on the Internet.
The next and perhaps most comprehensive step is to make sure that all your local listings are standardised and optimised across the board. You want all mentions of your hotel across the Internet to provide as much accurate and engaging information as possible. This includes not just your Google Places page, but also directories like Yellow Pages, Manta, Merchant Circle and more. Note that at the end of the local results, there is an option for users to further narrow down their search based on popular filters:

For this reason it is important to make sure your property has not just the correct location information, but also an original description optimised for the type of property and area attractions.
Once you have your local listings and directories up to date, move on to your link profile. Whenever possible, the anchor text for inbound links should include your location. If an article is written about your property, having the link read "Manhattan hotel" is much more beneficial to your local performance than "click here." Keep in mind that this can be an arduous process that may take weeks or months to get even a few webmasters to change your anchor text.
What do HeBS Digital Marketing Experts Recommend?
While the full effects of the Venice update are still being sorted out, we are confident that the methods listed above will help you maintain and even increase your organic and local performance. Targeting local keywords in your content, standardising local listings & directories, and optimising your link landscape can help boost your site's performance in the face of the Venice update.
There are also technical updates that can help your local performance; the most beneficial of these is adding semantic markups to certain pages on your site. Using the language developed by Schema.org, you can insert information similar to extended meta data on the backend of your site including location, price, upcoming events, restaurant hours and more. While this alone will not propel you to the top of the rankings, when combined with the methods previous discussed schema can give you that boost you need to rule the SERPs.
(Contributors: Sue Wiker is Manager, SEO Dept. and Eric Rattner is Account Executive at HeBS Digital).
Related Reads
comments powered by

Disqus