How to make online direct booking your trump card
Jul 29, 2013
There is no fixed formula that can result in better conversion rates for accommodation websites. Rather, it's an ongoing process that requires clear brand positioning supported by appropriate content and technology initiatives. EyeforTravel's Ritesh Gupta talks to two groups with different business models about how they are approaching the challenge.
Developing a website that showcases accommodation in a way that helps make the right decision is a steep learning curve. But what is clear today, is that a firm offering accommodation online can't afford to lose visitors owing to a hiccup in the site's performance.
In a recent EyeforTravel.com interview with Accor, which has positioned its online experience as 'Know what you are really booking when you book', this was clearly highlighted. The group has focused on web and data analysis capabilities to improve usability on the group's sites and has also worked to ensure that the booking funnel matches the customer's needs. To achieve this required nothing fancy. Rather, it focused on making the booking experience quick, efficient and easy.
Of course, every hotel group has its own battle to fight and there is no set pattern as preferences might vary by standardisation of service, type of accommodation and so on. Finding the ideal mix of content and technology is not easy. So while it may be common to rework the search functionality to feature as many options as possible during the booking stage, additional content options shouldn't result in loading a new page.  
Now let's examine a couple of new online direct initiatives.  
1. Search and reservation
Recently, Singapore-based CapitaLand's wholly-owned serviced residence business unit, The Ascott, introduced new web and mobile booking features. The aim was to let users better navigate its properties with user-friendly search functions, filters and reservation options. "Our key consideration was to provide customers with an efficient, convenient and fuss-free booking experience," explains Tony Soh, The Ascott Limited's chief corporate officer. There were several aims.
a) Making search more efficient:
·         Instead of having to check the availability of individual properties for a stay, a citywide search function enables customers to view a list of all available properties. The Ascott has more than 22,000 operating serviced residence units in key cities of Asia Pacific, Europe and the Gulf region.
·         If customers have a certain budget, a filter will help them narrow down the available apartments that meet their needs. This starts with those that offer the lowest rate.
·         There will also be collapsible sections for easy reading and to enable customers to compare the various apartment types and rate categories.
b) Providing flexible booking options
New booking features cater to customers' different reservation requirements by providing flexible booking options. "If they [customers] are travelling to different places, require multiple apartments of different sizes for different number of people, or wish to book multiple apartments for different stay periods, they can now perform a multi-city, multi-property or multi-apartment booking within a single reservation process," says Soh.
For example, a customer can book two apartments in Shanghai and London in a single reservation instead of two separate bookings, saving half the time. Before confirming a booking, guests will also be prompted on apartment upgrades and supplementary services, which they can opt for to enhance their stay.
c) Developing content that helps decision-making
There are always those basic key things that customers look for on websites - the location of properties and their photos, types of apartments available, rates and contact details. But there is other property-specific information that can be shared too.
·         The Ascott has introduced a section within the webpages on its serviced residences to help customers better understand the properties. The new section features a detailed description of the various types of apartment, amenities and floor plans of apartments, value-added services and facilities.
·         Guests can view properties on a map for a better idea of their location and the nearby landmarks and attractions.
·         The team has avoided possible drawbacks such as flash applications, which can be slow to download.
d) Applying the human touch for a diverse market
The group has launched an online chat facility on its websites. The objective is let customers easily communicate with an Ascott representative who will use instant messaging to address their queries. This facility is available in five languages – English, Mandarin Chinese, French, German and Spanish. The aim is to also to target various demographics more efficiently.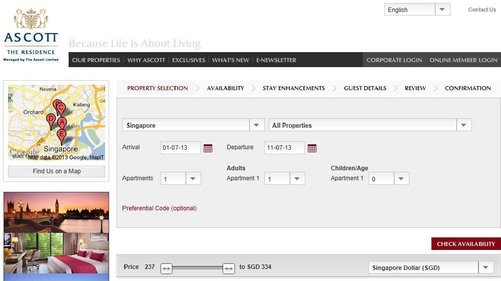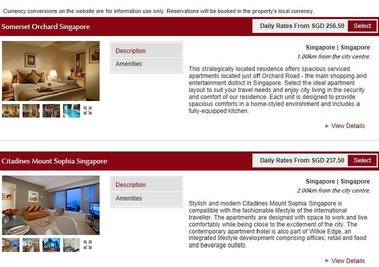 2. Rewarding loyal customers 
Preferred Hotel Group (PHG) is another brand that is taking big steps online. Its site now has many tools available that make planning a multi-generation vacation easy and streamlined. "Our new PreferredFamily.com site is particularly effective, featuring filters and certification tools aimed at helping travellers find the ultimate child-friendly destinations that offer activities and facilities for adults as well," says Casey Ueberroth, SVP of strategic marketing, PHG.
PHG has just invested heavily in bolstering its guest loyalty programme, iPrefer. When the new iPrefer launches on August 15, Ueberroth believes it will be the first global loyalty programme for independent hotels offering points redeemable for currency. Currently, the programme has 1.3 million members. "We designed the new iPrefer with points, added rewards, and incentives to engage our current and potential guests and encourage them to share more insights about how they like to travel so we can customise and personalise their visits much more effectively," says Ueberroth.
For example, if a guest visits the group's sites multiple times and searches certain areas of the site (ie. regions, interests, family needs and so on), it can then provide custom content on subsequent visits to help tailor and streamline their on-site experience.
"This personalisation allows us to save guests time when they are searching for the perfect getaway," says Ueberroth. "By serving up customised dynamic content, which will change on each visit, we are providing a meaningful user experience with relevant travel options."
The Ascott is also looking at loyalty. According to Soh, one of the main initiatives to drive online direct business is the launch of Ascott's Online Members Programme. Membership is free via the group's websites, and special rates and exclusive promotions are offered.  
In addition, Ascott's online members can log in to their profiles on the mobile websites for quick reservations. The mobile websites also have user-friendly features that show customers the nearest Ascott serviced residence based on their location, and interactive maps that display the attractions and amenities around the serviced residence. Users can also view current promotions, check apartment availability, and make or modify a reservation at the touch of their fingertips.
Related Reads
comments powered by

Disqus