Great expectations: mobile focus must be innovation and integration
Jun 11, 2013
Having a comprehensive mobile strategy not only improves reach, it also makes a travel brand more relevant to users who are increasingly using devices on the move. While brands like are taking steps in the right direction, the integration of fragmented solutions and a focus on simplifying data entry should be top priorities, says Odigeo.
Mobile-specific booking platforms have come a long way. In fact, they have reached a stage where they are competing with or even nudging ahead of traditional web assets. For instance, the travel industry has seen intermediaries replicating some of the features that have originated on mobile for desktop sites. Even the overall experience across various platforms is being compared today.
"Some brands already offer mobile solutions that are easier to use and provide for a more enjoyable shopping experience than more complex desktop websites," says Andreas Schrader, Group Senior Director - Mobile, New Ventures & Brands, Odigeo Group (owners of eDreams, GO Voyages, Opodo and Travellink).
However, according to Schrader, it usually gets less convenient once passenger details and payment details have to be entered. Data entry on mobile devices is still not enjoyable yet much of this hassle can be avoided for repeat bookers. In Schrader's view, the most convenient way to shop for and book flights is the eDreams iPhone app - even if compared with other brands and other devices. "But it should be noted that most mobile solutions today are optimised for only one or a few use cases, which requires the user to use a portfolio of mobile solutions in order to serve his travel needs (flights, hotels, cars, taxi etc)," he says.
So there is certainly room for innovation and improvement by integrating today's fragmented solutions.
Odigeo has been focusing on mobile web and apps for both tablets and smartphones, for all of its brands. Currently, the group has web apps for smartphones for all its brands, iPhone apps for eDreams, GO Voyages, and Opodo and iPad apps for Opodo. It also has an Android app for GO Voyages and Windows Phone and Symbian apps for eDreams.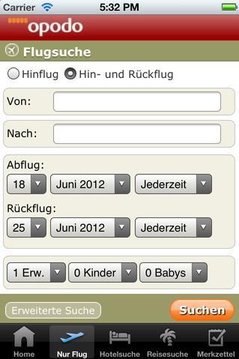 "Next to completing the portfolio of offered technologies we give high importance to improving the mobile booking experience for flights, adding more bookable products and support our customers while they travel," says Schrader.
EyeforTravel's Ritesh Gupta finds out more about Odigeo's approach to mobile commerce.
EFT: Speaking of mobile shopping, how can one assess consumer behaviour as they hop between devices, and also between mobile web and apps?  
AS: As long as a user has not identified himself, it is virtually impossible to track users when they hop between devices. That said, we know that there is significant cross-device usage and users book on desktop after searching on mobile devices and vice versa.
And obviously many travellers who book on desktop computers have smartphones that can be helpful during travel. This is why we give a high priority to making the flow between devices as seamless as possible for identified users and customers.
EFT: What were you major concerns while launching your mobile apps and mobile website? Have these changed in the last year or so?
AS: When launching we were obviously unsure if users would prefer our mobile solutions even if they covered less functionality than the desktop website. Now we clearly see that a mobile optimised solution works better for our users as long as it provides the core functionality - which we obviously provide with all our mobile solutions. Users have very concrete expectations when it comes to using mobile webs and mobile apps. In our case mostly search, get good prices and book fast in a secure environment. Users feel comfortable with our solutions. We now focus on only improving and amplifying solutions that already work well.
EFT: What are the benefits of having a mobile portfolio today and what are the major hurdles?
AS: Having mobile solutions in different technologies not only improves reach - and hence makes the brand and the service relevant for more users - it also matters for the optimisation of marketing investment.
When customers become loyal with mobile solutions and use an app for repeat purchases, or if customers flow seamlessly between mobile and desktop solutions, it is evident that this provides advantages to both, the users and the business.
We are still on a steep learning curve but we don't face any particular hurdles anymore. The biggest challenge today is to manage the complexity of different channels effectively.
EFT: How has mobile analytics helped to improve your mobile product strategy?
AS: Mobile analytics has evolved big time over the last two years and we now have decent visibility of what users are doing with our mobile webs and mobile apps. This obviously is an important input when designing our future feature roadmap, but also when improving the usability of our solutions. That said: we believe this is a mutual learning process, users learn what they can do with their mobile devices and the business learns about how users engage with what is made available to them.
EFT: Can you give us some insight into your mobile retention strategy – how do you review and then improve your apps?
AS: The most important feature of our mobile solutions is to retain users. Only satisfied users will return to use our solutions and do business with us. We therefore dedicate significant energy to understanding how our users deal with our solutions, not only with technical analytics, but also with in depth workshops and tests with users. The insight of this research is then combined with the feature roadmap that was derived from our strategy and put into priorities for each sprint of our agile development process.
EFT: Looking at what other online travel agents are offering, how do you think your app stands out?
There are quite a bunch of OTAs with mobile solutions out there and we don't differentiate with all these solutions the same way.
Today, our focus on the flight product is probably the feature that distinguishes us the most from others – this, however, will change as we amplify our mobile solutions. Other than that we think we perform better than others in three ways:
·          providing an advanced user experience,
·          supporting multi-channel usage, and
·          supporting customers while traveling
EFT: How do you intend to assess the efficacy of your mobile portfolio?
We see our mobile portfolio as part of our users' multi channel experience, and we do assess the efficacy of the entire portfolio with a comprehensive set of tools for 360-degree customer feedback, including web and app analytics, customer service stats, surveys, and user workshops.
Related Reads
comments powered by

Disqus